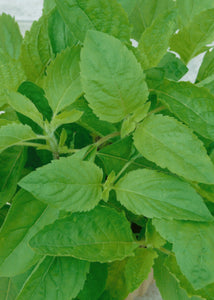 Basil - Clove scented Ocimum basilicum seed
The foliage of this Basil is scented like Cloves! It can be used as a food flavoring, tea, or simply a sweet-smelling, decorative addition to your herb garden!
Native to India and ancient Persia, basil has a long history as one of the most revered of herbs. Ancient legends give basil a strong religious connection, stating that it possesses healing powers. In many cultures basil is a symbol of love, and given as a token of affection or engagement; other meanings include protection and truth. In Greek and Roman cultures, however, basil represented hate and misfortune; because of this, gardeners would often shout abuses at their plants to help them grow. It seems that no one could agree on the properties of basil, with divided opinions on whether it had medical benefits or whether it contained poison. Since English royalty preferred basil and used it for both culinary and cosmetic purposes, chefs sometimes call it "the king of herbs." In addition to being popular with the ruling class, basil was commonly used throughout England and loved for its scent; many people included it in their gardens, added it to their bouquets, and used it to freshen the air in their houses. Medicinally, oil of basil is often used in treatments as diverse as depression and anxiety, the common cold, a cough or sore throat, or insect bites and stings. Medicinal doses of basil are unsafe for pregnant women, though culinary use is fine.
25 or more seeds per pack