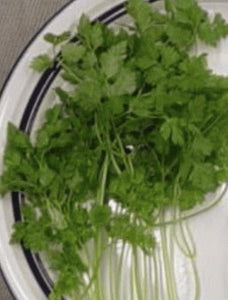 Chervil - Winter
My very favorite kitchen herb. I keep a pot growing on the porch in addition to the herb garden bed, just to keep chervil near when I'm in the kitchen. Perfect for roasted potatoes and topping soups. The parsley for parsley haters. (I happen to love parsley too) 
The feathery parsley-like leaves of Winter Chervil have a mild, sweet, anise-like flavor and are popular in cooking, salads, and as a delicate garnish. The leaves lose their flavor when dried, so it is best enjoyed fresh from the herb garden.
Winter chervil is a close relation of parsley, originating in southern Russia. It's delicate flavor, similar to tarragon or fennel, has made it an extremely popular kitchen herb. Chervil has an honored place in every chef's kitchen, particularly in France. This mild herb is the main ingredient of the famous blend of French herbs known as "fines herbes", as well as being the seasoning of classic bearnaise sauce. Though not often used for medicinal purposes, it was historically used as a mild tonic or stimulant as well as being a supposed cure for hiccups.
30 or more seeds per pack