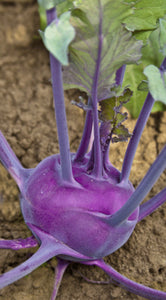 Kohlrabi (Purple Vienna) seed
Kohlrabi, to me, is one of the most underrated vegetables of our modern era. Versatile, nutritious, delicious, easy to grow and they keep for some time in the refrigerator after harvest.  Creamed Kohlrabi is a staple in my kitchen. Shallot, a touch or sherry and cream. They are easy enough for a fast weekday lunch, yet elegant enough for Thanksgiving and Christmas dinner. I LOVE kohlrabi and this is my favorite variety. I save the seeds from my first harvest many years ago and grow this heirloom variety in my garden year after year. 



Heirloom "Purple Vienna" Kohlrabi  Seeds  
The Purple Vienna Kohlrabi possesses a stunning color and a deliciously mild taste; similar to turnip and cabbage. Though all Kohlrabi varieties can be planted in temperate climates, they tend to perform best in colder regions. 

Purple Vienna is a standard home garden and market kohlrabi variety with deep purple skin and crisp greenish-white flesh. The mild flesh is great cooked or fresh. The bulbs become fibrous as they mature, so for best quality, harvest at 2" in diameter, which takes about 55 days from sowing.
Named for a German word meaning "cabbage turnip," kohlrabi was developed first around the 16th century in northern Europe. By the end of that century, it had spread throughout the rest of the continent as well as to the Mediterranean region. The first recorded mention of kohlrabi in the States is found in the early 16th century. More recently, the countries of China, Israel, and Africa have discovered this vegetable; it has become quite a staple of northern Indian cuisine. Purple Vienna heirloom kohlrabi in particular dates back to 1863.

40 or more seeds per pack