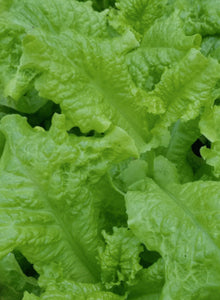 Lettuce - Black Seeded Simpson seeds
A favorite variety to make the traditional Ozark dish of Wilted lettuce. I started growing this variety last season as requested by my Missouri Mama, Miss Lisa. A hardy and leafy variety that grows easily almost year round and makes a darn tasty and traditional Midwest wilted lettuce. 


This heirloom lettuce variety is popular with many home vegetable gardeners. Black Seeded Simpson quickly produces an abundance of light-green, lightly crumpled, juicy leaves. The large upright plants are widely adapted and tolerant to heat, drought, and frost with about 50 days to maturity.
Black Seeded Simpson lettuce seeds were introduced by Peter Henderson & Co in the 1870s. Wild lettuce, however, from which modern lettuce is derived, originated in Asia Minor. The ancient historian Herodotus records its presence on the tables of 6th century Persian kings, and throughout the following centuries it became a popular crop all over Europe. Columbus brought it with him to the New World, starting its spread over the North American continent. Without a doubt, lettuce now holds a place in nearly every garden on the globe.
100 count minimum seed pack