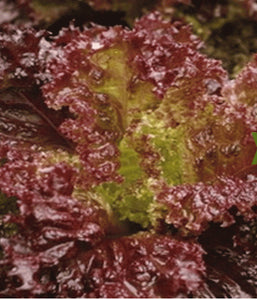 Lettuce - Lolla Rosso Darky Heirloom
A deeply curled loose-leaf lettuce, this plant has beautiful deep red leaves. The pleasant mild flavor and stunning color makes this a perfect choice for salads and garnishes. This is a true cut-and-come-again variety and is slow to bolt. The 7" heads are ready in as few as 50 days.
Lolla Rosso heirloom lettuce comes from Italy, where it has been sold in the markets of the Turin region of Italy for generations. Wild lettuce, however, from which modern lettuce is derived, originated in Asia Minor. The ancient historian Herodotus records its presence on the tables of 6th century Persian kings, and throughout the following centuries it became a popular crop all over Europe. Columbus brought it with him to the New World, starting its spread over the North American continent. Without a doubt, lettuce now holds a place in nearly every garden on the globe.
300 ct seed pack