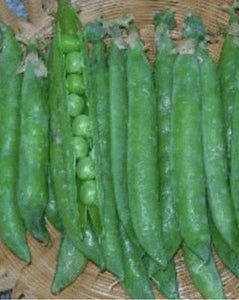 Pea - Early Frosty Garden Pea
This is an improved version of Little Marvel that is popular and high in quality! These vines do not require staking and produce abundant yields of 4" pods. This is an ideal cool climate variety that is great for canning and freezing.
Though no one really knows when peas were first cultivated, historians can be certain that people grew them for food by the Bronze Age. Legend has it that fresh peas first became popular when a French gardener introduced them to the court of Louis XIV. Because they could be dried and stored for long periods of time, people in colonial times also valued this vegetable. Horticulturalists and gardeners alike have continued cultivating peas of all varieties and sizes.
WHY WE LOVE FROSTY PEAS: They don't require trellis! 
20 or more seeds per pack