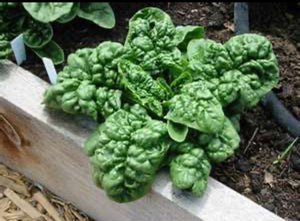 Spinach (Heirloom Bloomsdale) seed
Bloomsdale is by far the most popular and widely available open pollinated spinach.  Glossy, dark green savoyed leaves are sweet, tender, fleshy and have a rich flavor.  Bloomsdale spinach stands well in warm weather without bolting. I like to plant spinach with my alpine strawberries and in little pockets of beds throughout the garden. 


Bloomsdale Longstanding is a spinach that may very well become your favorite! The large leaves of this variety are thick, dark green, and have a crinkled texture. Slow to bolt, and taking only 45 days to mature, this is a great choice for late spring and summer plantings.
In 1784, Englishman David Landreth moved to downtown Philadelphia to open the first commercial seed business in the United States. He and his brother Cuthbert developed this variety of spinach, which they named Bloomsdale Longstanding and introduced to their customers in 1826. Bloomsdale became known for withstanding temperature changes without bolting, and continues to be well loved by gardeners. In 1937, it won the prestigious AAS Award.
50 or more seeds per pack