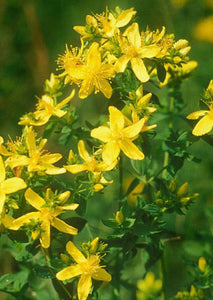 St. John's Wort - White Chocolate Hypericum Balm
Regular price $12.00 Sale
White Chocolate Hypericum Balm 
Whipped Body Butter and Balm 
This is an all purpose, all over body balm with many benefits to the skin's surface and beyond. 
St. John's wort is a herb that has long been thought to have medicinal qualities, especially for the treatment of depression.
It also appears to have antibacterial properties and may act as an antiviral agent.
On the skin, hypericum acts as an anti inflammatory. Infused into fast penetrating Camellia seed oil, this silky balm reaches deep under the skin and can provide relief for everything from painful arthritis to dry surface skin. 


Also known as Perforate St. John's wart, Tipton's Weed or Klamath weed, St. John's wort comes from a flowering plant called Hypericum perforatum. 
The plant contains the active chemical hypericin, and this may be what gives the herb most of its efficacy. Other ingredients such as hyperforin and flavonoids may play a role.
St. John's Wort can clash dangerously with some prescription drugs, so care must be taken with its use, and any use should be first discussed with a health care provider.