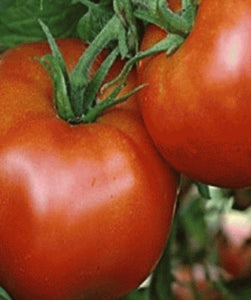 Tomato - Heirloom Rutgers (Great for canning!)
These medium-sized tomatoes are ideal for both canning and fresh eating. Their smooth skin is crack-resistant, with a flattened globe-shaped fruit that averages 7 Oz in weight. The tomatoes grow on compact vines and are ready in 78 days. Determinate.
Dr. Lyman Schermerhorn of the New Jersey Agricultural Experiment Station developed the famous Rutgers tomato in 1934, selecting all the best qualities from several different varieties. Rutgers turned out such a success that major companies such as Campbell, Heinz, and Hunt as well as many others commercially produced it for use in their products. Its uniformity, thick flesh, and excellent flavor make this one of the best all purpose tomatoes.
30 count seed pack