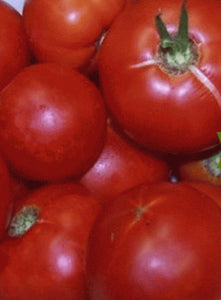 Tomato - Heirloom Wisconsin 55
This heirloom tomato originated from the University of Wisconsin. It gives a very high yield of 8 Oz tomatoes and works well for shipping and preserving as well as fresh eating. It also defies disease and resists cracking, growing firm, and smooth. It grows in 75 days. Indeterminate.
Wisconsin 55 tomato seeds were developed by plant pathologist JC Walker at the University of Wisconsin in 1949. This reliable, early producing tomato remained popular throughout the arrival of many hybrid varieties in the 1950s; its excellent qualities made it one of the most popular garden tomatoes in southern Wisconsin.
30 count seed pack