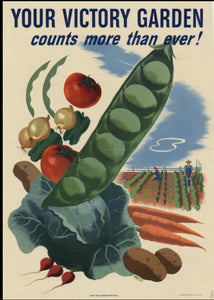 Victory (Self Sufficient homestead) Garden Kit
Regular price $200.00 Sale
It's been a while since we've had the need in America (and the world) to think about 'actually' being self sufficient. It's more important than ever to plan ahead for the hard times that may be coming. Many people think and dream about growing their own food and medicine to provide for their families in hard times. Those dreams grow closer to becoming necessity every day. We are living in uncertain times. Planning ahead isn't something that's reserved for the fringe of society anymore. It's an investment in your future, the future of your family and the future of generations to come. This seed set isn't designed to grow some extra tomatoes. This set is designed to provide food, medicine and secure the financial well being of yourself and your family. Important and easier to grow food groups, like beans and corn. Vital medicines, like Anti Virals and Anti Fungals. Herbs that can replace expensive medications. Cash crops, like tobacco. Multipurpose plants like comfrey, which can heal the body AND your soil. Of course it's lovely to grow fancy heirloom tomatoes. You can be sure that you'll find some of those in the set. But a good canning tomato, like Roma, is more economical when it comes to actually providing food for your family.  
Years of studying and practicing a self sufficient lifestyle has been put to good use in a set of seeds that are designed not just to produce a lovely vegetable garden. But to provide for you in your time of need. 
Seed quantity will vary based on the need and purpose of the plants.
For example: Food staple crops such as corn, beans and brassicas will be larger than culinary herb packs.  
As these sets are made, I will provide more information. 
One thing you can be SURE of is: Like all of the products I make and offer at Starfish Honey. These sets are crafted and packed thoughtfully and generously. These are NOT the gimmicky "self sufficient prepper garden" kits you'd find on Amazon. These are sets crafted by ME, a modern day homesteader.  Crafted with knowledge of what you will ACTUALLY need to start growing your own food and medicine. In other words: They will be WELL worth the price. You will not be able to find a comparable set like this for the same price ANYWHERE. Buying each of these seeds separately could cost upwards of $500 (Think 100 packs of seeds at $5 each from other vendors.) Many of the rare and hard of find medicinal herbs can't be found elsewhere. (Think Poppies & Tobacco)  Because I grow them myself, I'm able to keep my cost down and pass that savings on to you. 
These valuable seed sets are available now for preorder and will be shipped March 2021.  


Update: Here's the official list of what's included in the set. 
Tomatoes: Roma, Homestead, Yellow Pear, Tiny Tim, Black Krim, Golden Jubilee (If supplies run low Golden Jubilee may be swapped with Big Rainbow or other similar Heirloom tomato type) 
Peppers: California Wonder, Cayene
Zucchini, Yellow summer squash
Peas: Thomas Laxton, Early Frosty, Lincoln Shelling
Leafy Greens: Cimmeron Romaine, Spinach, Bibb Butterhead, Hopi Red Dye Amaranth
Cole Crops & Brassicas: Brussels, Jersey Cabbage, Collards, Japanese Mustard, Broccoli, Kohlrabi, Rainbow Chard
Beans: Blue Lake Bush, Kentucky Wonder Pole, French Slenderette
Corn: Glass Gem, Peaches & Cream Sweer Corn
Winter Squash: Big Max Pumpkin, Blue Hubbard, Mary's Amish Butternut 
Root Vegetables: Turnip, Parsnip, Detroit Beets, Breakfast Radish, Tendersweet and Chantaney Red Core Carrot
Melons and Fruit: Dixie Queen Watermelon, Pickling cucumber, Market Cucumber, Alpine Strawberry 
Flowers: Sunflower, Zinnia, Cosmos, Breadseed Poppy, Shirley Poppy, Orientale Poppy, Strawflower, Butterfly Weed
Tobacco: Hopi, American, Jasmine Nicotiana 
Culinary (Kitchen) Herbs: Thyme, Parsley, Oregano, Lemon Balm, Marjoram, Cilantro, Italian Basil, Thai Basil
Medicinal Herbs: Calendula, Hyssop, Lavender, Lemon Mint (Monarda), mullenin, marshmallow, ashwagandha, Holy Basil (Tulsi), Self Heal, St. John's wort, Clary Sage, Anise Hyssop, Blue Vervain
Garden Companions: Nasturtium, Alyssum, Marigold, Borage, Scarlet Sage