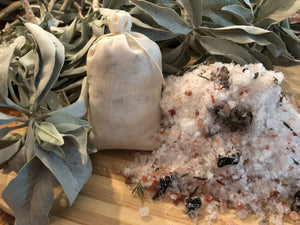 White Sage Flower & Lavender Bath Salts
All natural soothing mineral bath salts. Made with freshly harvested herbs, flower heads and minerals salts. 
Sacred and divinely rare White Sage flowers (Salvia Apiana). We use ONLY the flower heads for our blend. Married to whole, fresh English Lavender flowers and skillfully crafted into natural and mystical bath salts. 
You won't find a product like this anywhere. White sage flowers are extremely rare and difficult to produce in mass. Only by making our small batch products by hand makes this possible. 
NO Essential oils are used in this product. Our freshly harvested herbs are more than enough to make the magic happen. 
Very limited quantity.